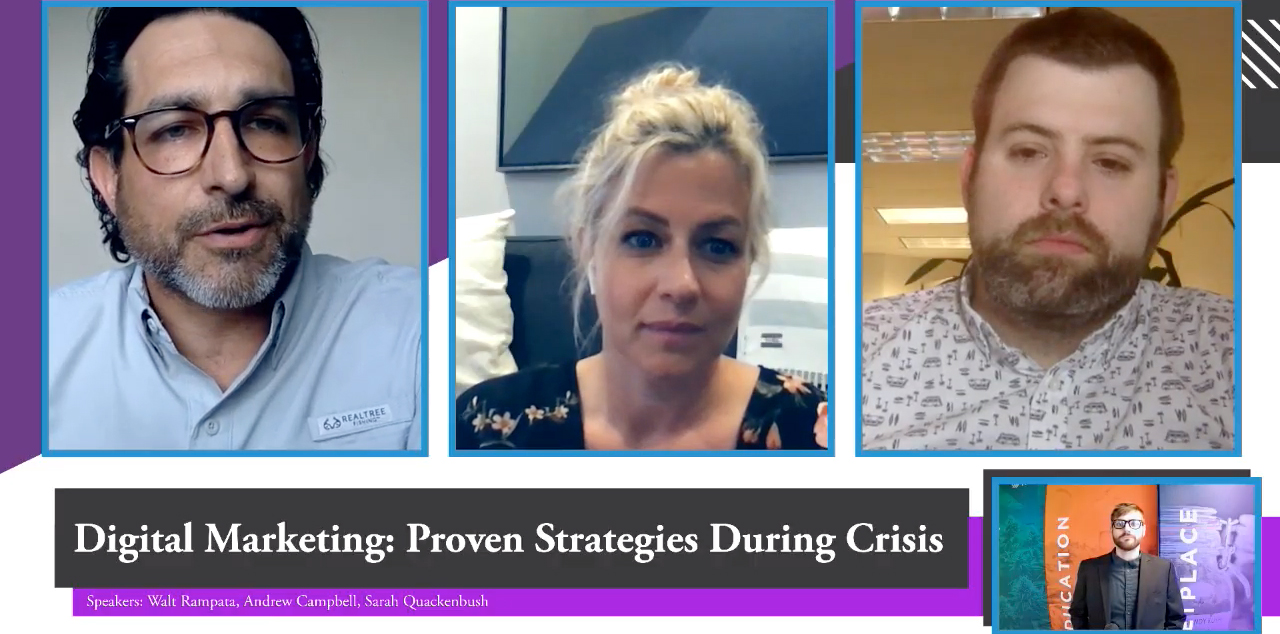 ---
Similar to many in-person events and conferences planned for the year, the Oregon Hemp Convention (OHC) went 100% digital.
Over the course of three days, viewers were able to watch live presentations, panel sessions, and product demos from experts in the hemp and cannabis industry.
Our team hosted a panel discussion about the importance of marketing and digital experiences in the time of the coronavirus pandemic. Each panelist offered insights and suggestions to business owners looking for advice on how to sustain their organizations and get ahead of the competition.
Here's a recap of the session.
---
Moderator:
Alex Hodschayan, Vice President of Marketing, Kush.com
Panelists:
Walt Rampata, President and Co-founder, Mindbuzz

Sarah Quackenbush, Vice President of Client Development, Mindbuzz

Andrew Campbell, Digital Marketing Lead, Mindbuzz
---
As a result of the coronavirus pandemic, there has been an increase in interest and demand for hemp and cannabis products. What are the latest search analytics showing us and how should businesses respond?
"There are three statistics that are sending a powerful message to cannabis business owners right now:
Searches for "CBD" are up 25% since the onset of COVID-19 in the US, with larger search volumes in Vermont, Colorado, Nevada, Oregon, and Alabama.

At one point in May, searches for "cannabis" were up 20% compared to their pre-COVID-19 levels.

Since the onset of COVID-19 in the US, searches for "marijuana license" are up 27%, with top search locations in Oklahoma, Michigan, Maine, Missouri, and Colorado.
Businesses should turn this increased interest into an opportunity to help educate people about cannabinoids, especially with so much misinformation still out there. People are looking to cannabis for help with various medical conditions and ailments. By providing them with the knowledge they seek, you can really add value and be a go-to resource for them whenever they have questions. Investing the time to attract and nurture these new customers can really have huge potential benefits for your business to rise above the competition." – Andrew


What are some good ways that businesses can choose topics to write that content? Are there any tools or resources available to them that they can use to find the content best suited for them?
"There are a lot of different tools out there, especially digital tools. There are search engine optimization programs like SEMrush and social listening tools that you can use to listen to conversations that are taking place across the internet. Gather and analyze that information, and then use it to help inform your content strategies." – Andrew


Since much of the customer experience is now online, what are some of the things that we should keep in mind to provide a valuable experience that customers might have otherwise received in-store?
"To start, it's important that you have a marketing plan that aligns with a very thoughtful and well-designed digital user experience. Research shows that 80% of website visitors are less likely to return to a website if the experience is bad; this means the site has broken links, is difficult to navigate, etc. We need to put a lot of effort and thought into creating a digital environment that is easily navigated and makes it easy for people to make purchase decisions. If those two things are not in sync, your marketing dollars could be going to waste.
There is a great opportunity now more than ever to provide valuable education through thoughtful and thorough product descriptions online. We're seeing a lot of clients, at our guidance, take more time to be very specific about what their products taste like, what the use cases might be, what the products might smell like, and other things that might help the consumer get a better understanding of what it is they are purchasing.
Another thing to consider is incorporating better tactics for online customer service – chat functions, being able to respond to customer service inquiries through social media, etc. All in an effort to replicate and improve the digital shopping experience in a way that customers may experience a brick and mortar retail location." – Sarah


"We've noticed that the dynamics of the pandemic have changed things for some of the larger companies that sell to the industry – those B2B companies that are speaking to other businesses. They now have to communicate directly with consumers and create a demand cycle of trying to pull through that interest. We're also looking at different ways to connect these businesses in a business setting to consumers and help them communicate in a fashion that is meaningful." – Walt


So all of this sounds like it's operating around improving your UI and making sure you have the right content to draw in customers, but once those customers are hitting your site what are some good ways of collecting data and feedback from them in order to improve your UI or change product descriptions or figure out what's actually working?
"In the past, pre-covid, a lot of brands were in a position where they were selling directly to retailers and they didn't have the opportunity to interact one-on-one with their end users. Now, with brands shifting to direct-to-consumer, there is a huge opportunity to gather invaluable customer data, provided that you have the tools and the ability to capture that data.
You should be thinking about making sure you have a functioning database and a customer relationship management system. We're a certified HubSpot partner and we do a lot of work in that space that allows us to gather information from customers about what's resonating and what isn't, what they are purchasing, what they are coming back to purchase, how frequent those purchases are, and what the average cart or order value is.
If you are able to pull that information together and evaluate it, you are going to be able to make better decisions – from product development to how those products are positioned on your website. For example, putting the best selling products forward or retooling some of the product descriptions on products that aren't selling as well to make them more appealing to consumers based on information you are gathering from prior purchases.
We need to make sure that there is a solid marketing strategy in place, including things like email campaigns and loyalty programs. We see a tremendous amount of success from customers of purchasers. Consumers that are engaging with brands through CRM and email really allow us to provide better, more personalized information which helps drive conversions.
I might be a little biased, but one of the best things that brands can do is reach out to professionals. There are a lot of vendors like us in this space that know it well and have been able to take learnings, experiences, and expertise from working with major CPG brands and apply it to the hemp, CBD, and legal cannabis space. Don't go it alone. There are a lot of us out there that have a tremendous amount of experience, knowledge, and insight that can help you strengthen your marketing program so that you are getting the best ROI, and at the same time gathering information from those consumers throughout the entire purchase cycle." – Sarah


There are a lot of brands out there that are new to this space, trying to figure out where they should position themselves. What are some ways that they can develop a customer base and learn how to speak to those customers as they build this audience? Are there tests they can run or certain tactics they can take to figure out how to position their brands?
"We advise our clients at the start that it's important to be able to take a look at who you are, and not just what you offer but why you are offering it. You can then put together some authentic brand positioning and messaging that is going to remain true regardless of how much the products may change or the legislation surrounding those products may change. By starting there, you are building a solid foundation for future growth." – Sarah


"Messaging is key in this instance. Understanding how to speak with your consumers in a fashion that relates specifically to them is the most paramount portion of marketing. Being able to pinpoint exactly what to say, how to say it, and how to communicate with those customers allows them to hone in on the tactics that will be most effective for them. And to do so while eliminating waste, meaning they aren't going to spend money on tactics that aren't going to produce results because they don't match up with the messaging and the position of the company. Taking that initial step, as Sarah mentioned, and honing in on the messaging is where working with a professional or a partner is very helpful. A lot of times when companies are getting started, they are too close to the fire to be able to see potential nuances that could get them in trouble. Getting it right from the get-go will allow a company not only to focus on how they communicate, but to do so more effectively." – Walt


"There are also a lot of things we can implement from a paid digital media perspective in terms of A/B testing, running a single campaign with multiple pieces of creative to see which calls to action are performing best, which images are performing best, and using social media pages to determine what's really resonating with customers." – Sarah


"We're trying to communicate the essence of a company, the experience that somebody had in an in-person setting. Using a dispensary as an example, which may not be applicable in the hemp setting, in that in-store experience they are used to experiencing different people and those people bring with them the heartbeat or the culture of the organization; it's really difficult to translate that in a digital setting. Taking that step, though, and trying to communicate that makes it a more effective user experience, online experience, customer journey, and in-store online experience." – Walt


You brought up paid strategies. What would you recommend to many of these brands in this space? How much time should they spend on paid versus organic given the many challenges in the hemp space?
"While there are so many rules and regulations that exist within the industry, there are a burgeoning amount of potential digital advertising opportunities out there. With that said, for any business, it's great to grow an audience around organic efforts. Having a robust organic social media strategy is probably your number one tactic to take. Once you build and develop that and have a consistent content strategy for your social media development, then you can look into other avenues that are out there, including paid advertising." – Andrew


Key Takeaways:
Capitalize on the increase in interest in cannabis products by creating educational content that can address the concerns of new, first-time customers.

Take the time to optimize your digital user experience and your virtual customer service options.

Invest in a CRM system to add a new direct-to-consumer revenue stream and segment your database based on customer preferences.

Audit and iterate upon your brand, which can attract and retain customers in a changing business and regulatory environment.

Practice agility if your paid media budget is tight; A/B test your creative and targeting criteria to optimize your spend and increase return on investment over time.


---
If you're interested in learning more about Mindbuzz and how we can help your organization, give us a shout.