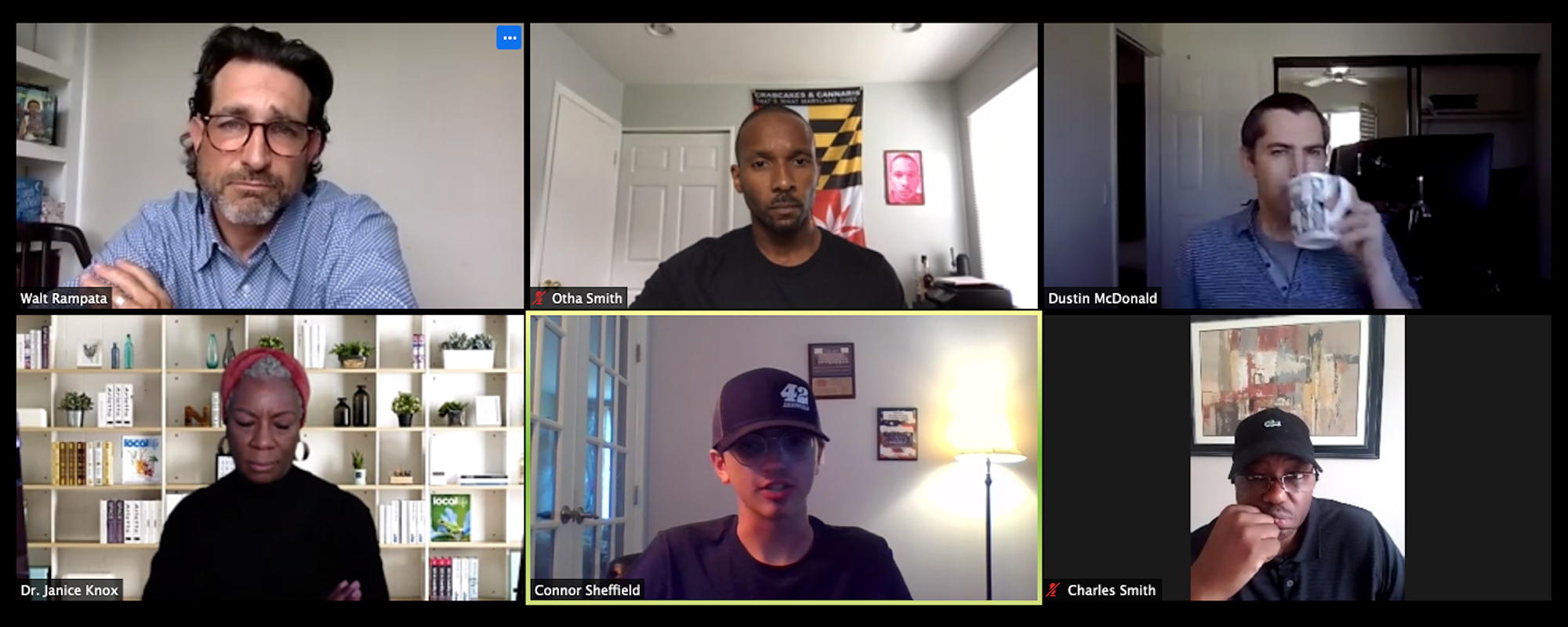 ---
In July, Mindbuzz partnered with the new mobile journaling app, Tetragram, to host a webinar on medical cannabis and how journaling can empower patients to take control of their treatment experiences.
We asked an inspiring group of medical cannabis patients and leading industry professionals about how simple practices can transform patient outcomes in powerful ways.
Here are some of the top insights from our panelists!
---
Moderator:
Walt Rampata, President and Co-Founder, Mindbuzz
Panelists:
Charles Smith, retired Prince George's County police officer and current medical cannabis evangelist
Connor Sheffield, accomplished dirt-track driver and champion of Connor's Courage Law, legalizing the supervised dispensation of cannabis medication on school grounds in Maryland
Dustin McDonald, Interim Policy Director at Americans for Safe Access
Dr. Janice Knox, renowned cannabis therapeutics expert from The Doctors Knox, board-certified anesthesiologist, co-founder of The American Cannabinoid Clinics and ADVENT Academy
Otha Smith III, Managing Member at Tetragram, the newest and most effective medical cannabis journaling app available today
---
On the topic of their personal medical cannabis experiences:
"If it wasn't for medical cannabis, I guarantee I wouldn't be here today. Medical cannabis is not a maintenance medicine for me; for me, it's the difference between life and death. I'm at risk of choking every day with every meal. Within the very first hour of trying [cannabis], I started coming back to life. I lost nearly all my nausea and pain and for the first time in my life, I experienced hunger. From there, I went from tolerating tube feeds to actually eating food." – Connor
"Being a police officer for 20+ years, one of our fights was against cannabis. That's all I've known. I sustained an injury on the job as a police officer and I went through a year of therapy and didn't get better. But after taking cannabis, the difference was between night and day. I could move and I was doing things I couldn't do before." – Charles
Dr. Knox: What types of chronic diseases, ailments, or general wellness needs can be addressed by cannabinoids? Who should be considering medical cannabis?
"When it comes to who should be using cannabis, we're living in some very stressful times and we should be talking to everybody about how they can incorporate some form of cannabis into their lifestyle. Even if you're the most healthy individual, it's to your benefit to support your immune system."
Dustin: What are some of the regulatory restrictions that have created this environment in which patients oftentimes have to manage their own care?
"With respect to the challenge with our current legal system and conflict of laws between federal and state governments resulting in this environment where patients are managing their own care with cannabis, that's the number one regulatory issue.
And what the conflict of laws really does is it creates a situation where physicians feel less comfortable in engaging in utilizing cannabis as a treatment option. It really divorces patients and doctors from communicating in the same way they're accustomed to in a traditional doctor's visit and so patients are often left on their own to navigate this journey."
Otha: What brought you to this work and why did you and your team feel like this app was important?
"At the end of the day, cannabis isn't cheap. People just become frustrated because people have tried hundreds of different strains and still haven't found that key product that works for them. That's why we built Tetragram: we're giving users the ability to keep track of their products and share their experiences with others. Tetragram was built for patients, by patients."
Dustin: How can expanding journaling across the patient population fuel advocacy conversations in the medical world and in public policy?
"Journaling opens a patient's eyes to not only what products work best for them, but also opens their eyes to understanding the laws that make my pursuit of this treatment more challenging."
Dr. Knox: What is your vision for the future of cannabinoids as medicine and how do you feel journaling can help make that future a reality?
"The data is really important. Collecting that information is really important not only for the patients, but also for the growers and the manufacturers. Everyone on that supply chain needs to understand what this data that's being collected from programs like Tetragram can do in order to improve services and products. The future is behind how well we can understand the pharmacology behind cannabis and the physiology that it serves."
Dustin: Many politicians are uneducated in terms of the healing nature of the plant, how do you educate them outside of some of these powerful, personal stories?
"I think it's important when you go and talk to a lawmaker to tell them what the challenges are and what they need to change to get an understanding of where a specific state law is and what the holes are. I think the second piece of that conversation is telling them your story: these stories are powerful."
---
Watch the full recording of our webinar here!
If you're interested in learning more about Mindbuzz and how we can help your organization, give us a shout.
Download Tetragram from the Apple App Store here or from the Play store here.